WORKFLOW
100cgi uses an incredibly efficient workflow which consists of three comment/feedback rounds, thus four stages. When we receive the initial brief package and your approval of the cost estimation and all the conditions via email, the production starts.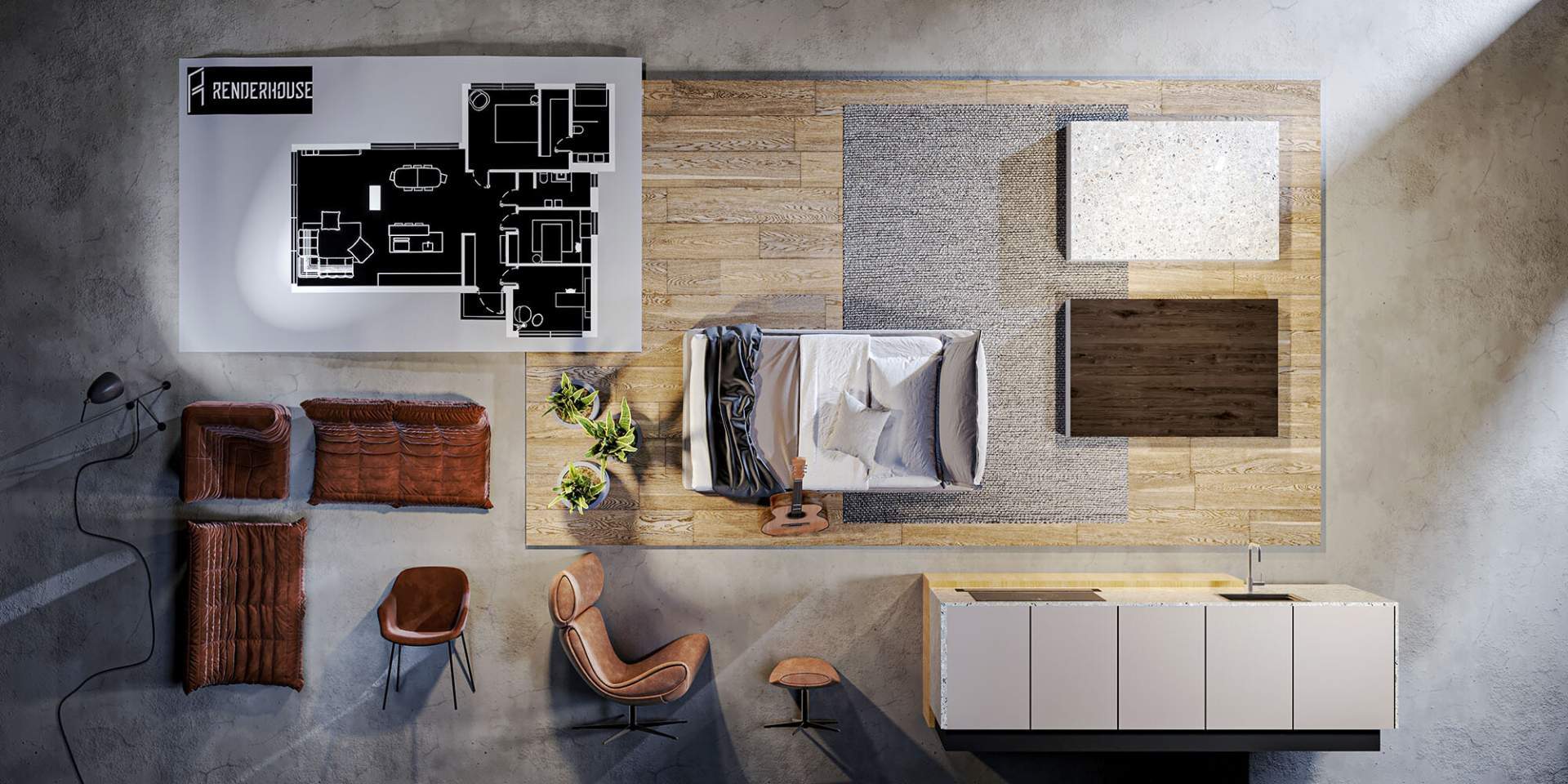 STARTING PACKAGE
To ensure a speedy and successful start , we will need a starting package that contains the following materials and necessary information, preferably in the listed formats.
Preferable camera views (.pdf)
Look & Feel (.pdf | .jpg | sketches)
Floor plans (GA | Floor layout | RCP)
Floor finishes (.pdf | web links)
Furniture finishes (.pdf | web links)
Furniture specification (.pdf | web links)
Lighting specification (.pdf | web links)
Site photos (.jpg | Matterport)
Location | Address (any format)
STEP-1 | CLAY RENDER
When we receive the design brief along with the signed contract and
prepayment, we can begin working on your project. In this phase we develop:
Camera angles/perspectives
The mood of the image/movie (season, time of day, etc.)
Interior design
Storyboard (movie)
After "Step 1", you can comment on the aspects listed above (geometry, camera, mood, design, storyboard). Failure to provide feedback on these key factors now at this stage rather than later can occur extra costs.
STEP-2 | FIRST DRAFT
We send the textured preview. In this phase, you can check the following:
Finishes application
Space/volume
Furnishing
Closer light set-ups and details
After "Step 2", you can comment on the aspects listed above (materials, space, furnishing, lights).
From "Step 3" onwards, comments like above imply extra costs("Step 1" and "Step 2" relevant comments). Costs can easily be kept to a minimal by providing feedback at the correct stages listed above.
STEP-3 | SECOND DRAFT
We send the close to final preview. If you are satisfied with it, we can jump to the finalizing phase. If you wish
to have some fine-tuning, you can do so in this comment round on the below points.
Color tweaks
Small (decoration) adjustments
It is imperative that this stage is not used for major changes such as factors listed in the previous stages as this will lead to extra charges and could cause delivery timing complications.
STEP-4 | FINAL RENDER
We finalize visuals according to your last comments. The final visuals are delivered as agreed in the
contract, followed by the invoice.
Should the client require a further set of revisions prior to final approval, 100cgi charges these revisions at a reduced daily rate. However, if 100cgi receives final approval and the client wishes for further revisions at this stage, these are charged at our standard daily rate. We accept that on occasion minor iterations after the production of high-resolution renders can occur and if it is within our power to make such iterations without enforcing additional fees we will always endeavor to do so- typically with the use of Adobe Photoshop.
WAY OF COMMENTING
Between each preview round, you have time to review the image and leave comments. We understand that all designers and firms work in different ways. For a more streamlined and effective process between us, we welcome your preferred method of communication during the design process and we are always happy to adhere to this if desired.
It is imperative to receive your mark-ups at each phase in one comprehensive package. We need the requested adjustments written directly on the previews, clearly stating how the specific elements should be modified.
Moreover, we always find reference images, sketches or any other explanatory visual material very useful.
In order to adhere to the time constraints of the project, please make sure to send your comments within the proposed time limit.
Each project is assigned to one project manager on our side who keeps you updated and makes sure your project is running smoothly and on target to meet your expectations. Based on our experiences, the most efficient way to hold collaborate is to have a designated contact person from your side as well.
Within the agreed fee, 100cgi offers one full set of consolidated feedback and respective adjustments to conclude each stage. If there are additional rounds of amendments outside of scope during any one stage extra fees will incur. 100cgi requires verbal/written approval to progress through stages. If stage approval has already been granted and a change of scope requires that we return back to a previous stage, this will result in extra fees.
Best Office Visualization Services
100CGI Studio offers a wide range of 3D services and works directly with designers, architects and property developers.
Whatever 3D content you are looking for, we will always be ready to assist you.
Have a project to visualise?
Send us your project brief or requirements and we'll get back to you within 24hrs